Trailer Cabinets, Aluminum
Trailer Cabinets, Aluminum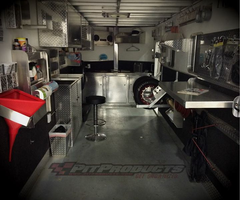 People approach your trailer nonchalantly, as if it's just a trip to the Porta-John and they happen to be wandering by. Then they stop, take a step back, crane their necks to look inside at the diamond plate aluminum doors of your cabinets. Then the questions start:

"Dude, where did you get that cool setup?"

You smile and tell them: "From Pit Products, where else?"
Built from high grade aluminum, these cabinets are solid and the Craftsmen who fabricate them at their shop in Jackson, Michigan are proud to say, these are made in the USA.
All of our aluminum racks, ramps, cabinets and accessories are Made as they are Ordered. Please check item description for approximate manufacturing times.
We do not offer customization of our items or custom work.