Garage Storage Lockers | Upright Trailer Cabinets
Lockers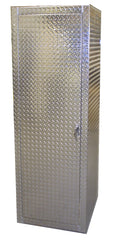 Pit Products offers you a variety of storage locker options that are perfect for garages, trailers, offices, factories, and more. If you're into racing, motorcycles, or just need a safe and secure way to store your gear, Our lockers help you keep things organized, while also looking great. Our lockers are made from either diamond plate aluminum, or smooth aluminum. Like all of our products, our storage lockers are 100% made in the USA in our facility in Jackson, MI.
All of our aluminum racks, ramps, cabinets and accessories are Made as they are Ordered. Please check item description for approximate manufacturing times.
We do not offer customization of our items or custom work.