Aluminum Overhead Cabinets For Garages & Trailers
Overhead Aluminum Trailer Cabinets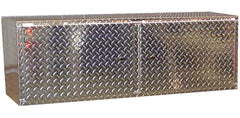 People approach your trailer nonchalantly, as if it's just a trip to the Porta-John and they happen to be wandering by. Then they stop, take a step back, crane their necks to look inside at the diamond plate aluminum doors of your overhead cabinet.
All of our aluminum racks, ramps, cabinets and accessories are Made as they are Ordered. 
Usually ships between 7-10 days. 
We do not offer customization of our items or custom work.